New from Doorbird: Unlimited Access Control with A1121
Written by
Aly Beach
Monday, June 20, 2022
Posted in General
Exciting news: DoorBird has launched a new stand-alone access control station with IP/POE and WiFi connectivity: the A1121 IP Access Control Device. The device can be installed indoors or outdoors and is an excellent choice for garages, side doors, storage rooms, or virtually any place where an IP Video door station can come in handy. It features an illuminated keypad and a sleek exterior available in two different colours (Stainless steel and bronze).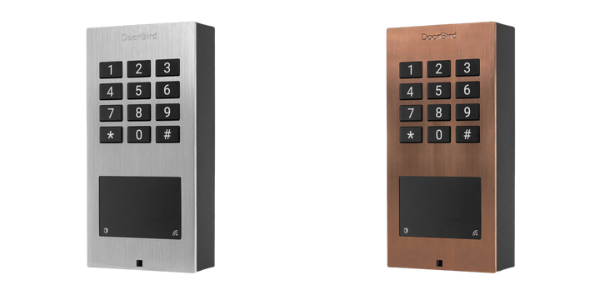 The door station can provide secure access control with custom PIN codes and an RFID Trans and works with the DoorBird app. It features two relays, can control gates and make use of HTTP(S) calls. It can connect to networks via WLAN or LAN cables. When connected through cable, the device can be powered with PoE; if the internet fails, the device will continue to work within the local network.
With the DoorBird IP I/O Door Controller A1081, users can set up individual schedules, validities and actions for each PIN code, RFID transponder and more.
Doorbird A1121 Surface-mount IP Access Control Device key features:
12 key illuminated Keypad
125 KHz and 13.56 MHz RFID Reader
Bluetooth Transceiver
Ability to create individual pin codes - up to 500 pins
Designed for surface mounting - flush-mounted and retrofit versions sold separately
Compact size - can be mounted on door frames
Connects via WLAN or LAN cables - can work in the event of an internet outage
HTTP(S) calls can be used to connect the station to third-party automation systems
Works with DoorBird A1081 IP I/O Door Controller
Available in Stainless Steel and Bronze